Meet the Team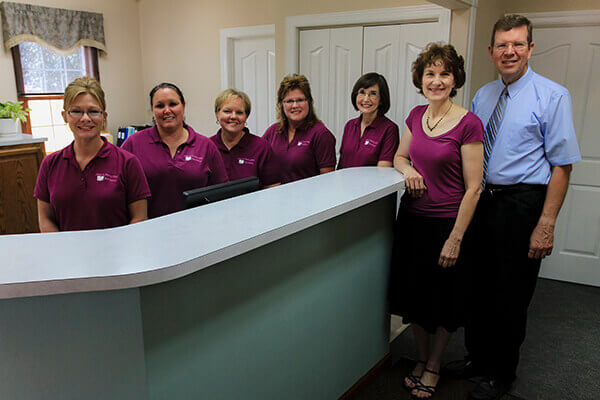 Carol, Office Administrator
Carol began her learning of the dental profession when Dr. Petty started dental school in 1976. She worked as a part time receptionist during their time in Arkansas and became a Registered Dental Assistant after moving to Tennessee in 1984. She designed, contracted, and decorated the office building in 1991 and continues to oversee building maintenance and redecorating. She works as office administrator, supporting the office staff, oversees implementing new business systems, dental software, and computer-based technologies. Carol's interests include personality types and relationships, preventive and alternative health and wellness, and nutrition but her most important focus is on her family, friends, and faith.
Ila, Patient and Treatment Coordinator
Ila joined our office in 2004 as a patient and treatment coordinator. She assists patients at our front desk in scheduling appointments, answering questions about Dr. Petty's personalized treatment plans, making financial arrangements, and scheduling any appointments needed with a specialist. She is also our IT specialist supporting the computer technology throughout our office. She is married and has two children. Ila enjoys church activities, her family, reading and travel.
Erica, Business Assistant
Erica recently joined our team to help our office welcome new patients coming from the office of Dr. Dale Hunter, not retired. She earned her degree in Biochemistry from Middle Tennessee State University, with plans to pursue entering dental school. She looks forward to fulfilling her desire to serve others through the dental profession. Erica enjoys running, hiking, and water sports with a great love of concerts, football, and Nashville Predators hockey!
Leanne, Registered Dental Hygienist
Leanne received her Bachelor of Science in Dental Hygiene from the University of Tennessee Center for Health Sciences and has practiced dental hygiene for 37 years. She comes to our practice from the office of Dr. Dale Hunter, now retired. Leanne volunteers many hours to the Humane Society of Lincoln County, as a board member, as the secretary for the animal shelter, and as an organizer for fundraisers and adoption events. She lives in Fayetteville with her husband and two pekingese. Landscape and flower gardening are some of her hobbies.
Terrie, Registered Dental Hygienist
Terrie is a Registered Dental Hygienist, who joined Dr. Petty's team in 1991. Before coming to Dr. Petty's office, Terrie worked for three years in a periodontist office, offering specialized care for those with gum disease. She takes pride in being from Tullahoma and having been given the opportunity to raise her two children here. She enjoys hiking, kayaking, and camping with her family and friends.
Beverly, Registered Dental Hygienist
Beverly is a Registered Dental Hygienist who has worked in both military and private practice since 1994. She is a graduate of Macon State College in Macon, GA. An Alabama native, Beverly and her husband, Alex, along with their two children moved to Tennessee from North Carolina. She spent two years working on Fort Bragg as a dental hygienist for the soldiers of the 82nd Airborne as well as the Special Forces. As a military spouse, she marks the two years spent serving those who serve our country as the highlight of her career.
Shelby, Registered Dental Hygienist
Shelby is a Registered Dental Hygienist who joined our office in 2015. She is from Manchester and played softball on a scholarship at Motlow State Community College. She is a graduate of Remington College in Nashville with a degree in Dental Hygiene. Shelby loves spending time with her chocolate lab, Gunner, and family and friends.
Jennifer, Registered Dental Assistant
Jennifer has worked for Dr. Petty since 1995 as a Registered Dental Assistant. She graduated from high school in Manchester and then attended the United States Air Force Dental Assisting Program. In addition to dental assisting, Jennifer assists patients over the phone with their dental insurance and appointments. She is married with three children and enjoys church activities, spending time with her family, sports, and crafts.
Lori, Registered Dental Assistant
Lori is a Registered Dental Assistant who joined our practice in 2015. She is a graduate of the Tennessee College of Applied Technology in Shelbyville and Moody Bible Institute in Chicago. In Chicago she worked for the American Dental Association as part of the research library. After this job she served as a surgical assistant in a prominent periodontics and dental implant practice in Libertyville, IL. She and her husband have four children and have spent the last twenty-five years working in the church with youth, children, and foreign missions. Lori is very excited to once again be a part of a friendly, community-based dental practice.
Mary Jane, Registered Dental Hygienist
Mary Jane has been with Dr. Petty since July 1996 as one of the Registered Dental Hygienists. Mary Jane started in dentistry as a dental assistant and then pursued a degree in Dental Hygiene, graduating from Community College of Baltimore.