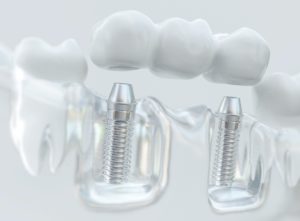 You made an excellent investment in your oral health and your quality of life by choosing dental implants in Tullahoma to replace your missing teeth. After your implant posts were placed, you have spent the last several months healing. While it may have seemed like a long time to wait, now your new smile has the foundation it needs to enjoy the security of having your jawbone fused to the posts. Although it may have felt like the day was never going to come, it is now time to undergo the 3rd stage of your treatment by placing your restorations.

Restoration Process
Now that you have fully healed from your placement procedure, your oral surgeon refers you back to your dentist in Tullahoma for the restoration process. Your dentist uses advanced technology to take digital impressions of your mouth. The highly-detailed images provide exact measurements to allow your restorations to be created with precision and accuracy to restore a beautiful smile that is fully functional.
Using the information from the images, the dental lab crafts your restorations to meet your exact needs from all-ceramic materials. They are made to match the color, size, and shape you need to look natural while restoring your ability to chew your favorite foods.
Depending on how many teeth you are replacing, your restorations will vary slightly.
Single Tooth
A single dental crown is attached to the abutment to fill the space of the missing tooth. It can take the dental lab a couple of weeks to make it, but when it is ready it will blend in seamlessly with your natural teeth.
Multiple Teeth
A bridge of prosthetic teeth is created to close the gap between those that are remaining. It is secured to your jawbone by the previously placed abutments.
Full Arch
An acrylic base is designed to match the color of your gum tissue, which features your custom-made prosthetic teeth. The underside of the arch has metal pieces that allow it to fit onto the dental implant posts. It is anchored in place, so you will never need to worry about any slipping or irritation.
Enjoy a Complete Smile
After your new teeth are attached to your abutments, your dentist checks your bite and the fit of the restorations to ensure they give you the best results possible. To perverse your new smile, they will discuss how to properly care for your restorations and the implant posts. With the right aftercare, your dental implants can stay in place for several decades for a beautiful smile that lasts.
About Dr. John Petty
Dr. John Petty believes in creating a minimal-stress environment while he helps his patients achieve healthy, functional smiles. In addition to general dentistry, he also offers many areas of advanced care, including the restoration of dental implants. After your implant posts are placed, he will complete your smile with high-quality dental prosthetics that look and feel natural. If you are ready to complete your smile, contact Petty Dental today to schedule your consultation.