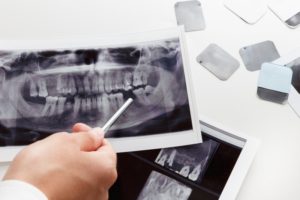 Restoring a smile with dental implants is often a lengthy and delicate process that involves multiple steps. If you're preparing to undergo this remarkable restorative treatment, you may want to learn more about the journey ahead of you. This article is the first in series of three that explores the steps you must go through to complete the dental implant process. In this piece, we'll discuss the initial consultation and how your dentist prepares your mouth to receive a dental implant in Tullahoma.
The Consultation
If you are interested in replacing your missing teeth with dental implants, your first step should be to visit Dr. Petty for an in-depth consultation. During this appointment, your dentist in Tullahoma will perform a thorough examination of your mouth and take some X-rays. He'll also discuss your smile goals with you. Then, he'll let you know whether you are a viable candidate for the implant procedure.
You should also take advantage of this opportunity to ask any questions you may have about dental implants. The more informed you are, the more confidence you can have as you get deeper into the smile restoration process.
Preparing Your Mouth
Many patients require a bit of preliminary work before they're able to receive implants. For example, it may simplify your treatment if you have one or more of your remaining natural teeth removed. This is often the case in instances where a patient's teeth are so badly decayed or damaged that they would eventually need to be removed anyway. Some individuals also require gum disease treatment prior to receiving implants.
Once your mouth finishes recovering form any necessary extractions, it will be time for you to visit the oral surgeon who will place the implants in your jaw.
Choosing the Right Oral Surgeon
Dr. Petty does not place dental implants, but he does know qualified oral surgeons in the area. After he evaluates your mouth and gains a thorough understanding of what you want your treatment to accomplish, he'll refer you to an expert who can insert the implants into your bone.
Of course, you aren't required to use the oral surgeon that Dr. Petty recommends. You may choose to do your own research on doctors in the area who place dental implants. However, a word of caution is in order: You should never choose an oral surgeon based solely on price or flashy advertising. Picking someone who is experienced and who has undergone extensive training in implant placement technique is most likely to perform your procedure in a way that minimizes the risk of implant failure.
Now that you have a preview of the beginning of your implant journey, why not schedule your consultation to get started on your path to a healthier, more complete smile?
About the Author
Dr. John Petty is an experienced general dentist who is proud to help patients regain their lost smiles through dental implants. To schedule your implant consultation or to learn more about this restorative treatment, contact our office at 931-454-9499.