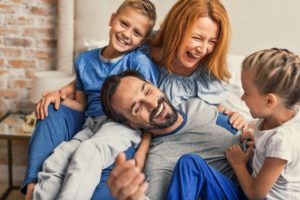 Every mom's goal is to get that perfect family photo, but what if your household's smiles aren't so perfect? Whether you think your family's oral health needs room for improvement or not, oral hygiene for you and your kids is more important than you think. Your family dentist in Tullahoma will explain some helpful tips for how all your loved ones can maintain great oral health and keep smiling confidently throughout every photo opportunity.
Why is a Good Oral Health Routine Important?
To help prevent your family from having dental issues like cavities or gum disease, it is imperative that your loved ones maintain a good oral health routine in between regular dental visits. The more you take care of your mouth, teeth and gums, the less likely it is for one of your family members to need extensive and expensive dental procedures.
In addition to the ramifications good oral health prevents, instilling positive oral hygiene behaviors in your children will set them up for a healthier life and mouth as they grow older.
3 Tips for the Whole Family
Here are some remarkable oral health tips that anyone in the family can benefit from:
Practice good eating habits: Consuming a healthy and balanced diet directly affects the health of your teeth and gums. Foods that are rich in calcium and protein can play an important role in protecting as well as rebuilding tooth enamel.
Foods with a high content of sugar or acidity like candy or soft drinks can lead to serious tooth decay. Watch your family's diet—soft drinks and candy can be replaced with water and fruit for better oral health.
Brush and floss properly: All of your family members should be brushing their teeth the right way as soon as possible. Place the toothbrush at a 45-degree angle towards the gumline, then brush the soft tissue and all surfaces of the teeth. Brushing should last at least two minutes per session and should be done twice a day.
Flossing should be done by each family member once a day to clean out plaque in between the teeth that your toothbrush misses. If your children have trouble handling floss, they can use floss picks which are pre-strung easy to use bits of floss with a plastic handle.
Check your water: This may sound strange but check what kind of water your family drinks. Some water contains fluoride, which is a mineral that protects teeth from decay and cavities in both adults and children. Tap water in most areas have fluoride levels that are optimized to help prevent tooth decay. If you use a water filter, make sure it doesn't filter out fluoride. Also, next time you reach for that bottled water, know that your local tap water can help the oral health of your whole family. If your loved ones genuinely prefers drinking bottled or filtered water, you can talk to your dentist about receiving professional fluoride treatment during regular checkups!
After reading these helpful tips, you and your family are ready to embark on a fun, healthy, and beneficial oral health journey. To learn more about what you can do for your family's oral hygiene and to maintain regular dental checkups visit your trusted dentist in Tullahoma.
Meet the Dentist
Dr. Petty prides himself on his ability to listen to his patients and know what is important to them so he can recommend the best treatments for each case. With a strong team that has been with him for over 20 years, he is ready to take care of you and your family's oral health care needs. He currently practices at Petty Dental and can be contacted by phone at (931) 454-9499.