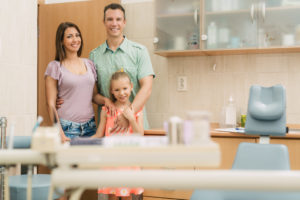 Choosing a preschool, choosing a trustworthy babysitter, choosing outfits in the morning and choosing what to cook for dinner in the evening: parenting is filled with decisions both small and large every day. Fortunately, choosing a family dentist does not have to be a difficult decision to make. Here are 7 questions to consider when searching for a family dentist in Tullahoma.
7 Important Questions to Consider When Choosing a Family Dentist
The American Dental Association recommends that children see a dentist before they celebrate their first birthday. Consider the following questions when searching for a family dentist for your growing family:
Does the Dentist Have a Good Reputation? – These days, online reviews can help you find everything from a quality restaurant for dinner to a reputable handyman. The same goes for the dental profession – check online reviews to read about others' positive or negative experiences with their dentist.
Who Do Your Friends Recommend? – Do not hesitate to use your friends as a resource! Chances are, they have already gone through this process before you, so take advantage of their legwork and experience. They are unlikely to recommend a family dentist if they are not already happy with the one they see regularly.
What Treatments Do They Offer? – A general dental practice and a practice with a children's dentist in Tullahoma may not offer the same services. Young patients, adults and senior citizens can all require different dental treatments. Check the dentist's website to make sure they offer the right services to meet the diverse dental needs of you and your family.
Is the Practice Convenient for You? – Between afterschool sports and weekend ballet classes, finding time to schedule a dental appointment for you and your kids can seem like a herculean challenge. Choosing a dental practice that is conveniently located close to home, work or school and offers flexible evening and weekend hours can make it much easier to fit in regular family trips to the dentist.
What Level of Emergency Care is Available? – Dental emergencies happen when we least expect them. You will want to determine if emergency dental care is easy to access in the evenings and on weekends – especially if your children participate in organized sports.
Is the Office Clean and Comfortable? – Before committing to a dentist, swing by the office to see the work environment for yourself. Is the waiting room comfortable and clean? Are there books, toys or televisions to keep your young ones occupied while waiting? If you don't feel safe and comfortable or if the level of cleanliness does not meet your standards, it may not be the best place to have someone working on your mouth.
Is the Practice in Network? – Of course, cost will always be a big factor when choosing a family dentist. Check to see if a dentist is in your network, but also ask for estimates so you can compare their fees with other dental practices in the area.
Bringing all your family's dental care under one roof can simplify your life and help establish good oral health habits early on for your young children. Don't let choosing a family dentist stress you out! Use these 7 questions to help guide your search.
About the Author
A graduate of the University of Alabama School of Dentistry, Dr. John E. Petty has called Tullahoma home for over 30 years. He takes great pleasure in helping neighbors and community members achieve the smile of the dreams and treats each patient with respect, attentiveness and kindness. If you want to learn more about Dr. Petty and his practice, visit his website today or call the office at 931-454-9499.